Make 50 capsules in just minutes with the Cap-M-Quik capsule-filling machine.
With Cap-M-Quik, it's easy to turn powders into easy-to-swallow capsules. Fill your capsules with any powdered herbs, food supplements, vitamins, or your own custom formulas. This is an economical and convenient way to take strong-tasting herbs and avoid binders and fillers that are commonly added to store-bought herbs.
Directions
This easy to use machine helps you make 50 capsules at a time in 4 simple steps:
1 – Assemble: before starting, place capsule holder on large paper. Place spacers on end posts facing center. Set holder on the four corner posts resting on spacers above base.
2 – Load: manually separate capsules placing the longer half in holes (top of capsules should be below surface of holder.)
3 – Fill: pour powdered herbs or vitamins onto holder spreading substance evenly with card, filling all capsules. Tamp contents with optional tamping tool
4 – Cap: turn end spacers 90 degrees. Holder will fall exposing upper half of capsules. Manually replace top cap, and remove filled capsules.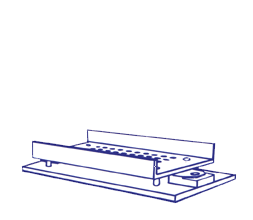 This does not include the optional tamper, which packs the powder tightly into the capsules. They can be purchased separately, or you can purchase them together with the Cap-M-Quik Machine + Tamper. We also carry a Cap-M-Quik Complete Kit that includes the capsule machine, tamper and 1,000 empty gelatin or vegetarian capsules.
Capsule Size & Approximate Volume
1 = 300 mg. – 600 mg.

0 = 400 mg. – 800 mg.

00 = 600 mg. – 1100 mg.

000 = 800 mg. – 1600 mg.
Click Here For a Complete Size Chart