Empty Vegetarian Capsules "Size 4" (1000 ct)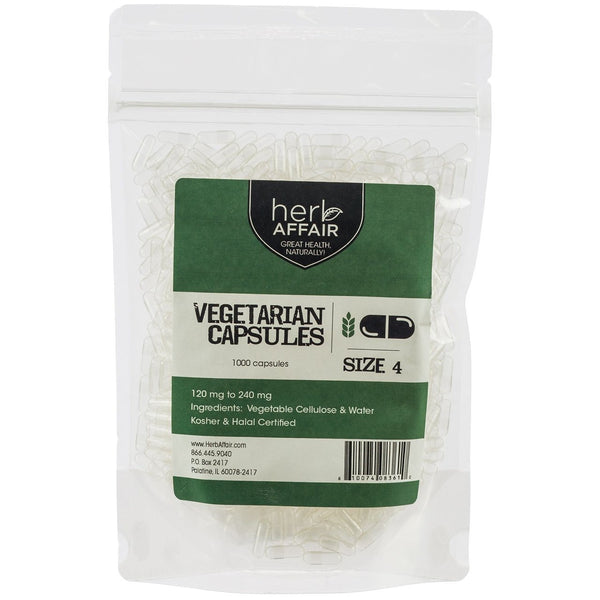 Empty Vegetarian Capsules "Size 4" (1000 ct)
"Size 4" holds approximately 120-240 mg
Vegetarian capsules are a great counterpart to our gelatin capsules. They are 100% plant derived, so they work well for anyone who cannot consume meat for religious, cultural or dietary reasons. This is an economical and convenient way to take strong tasting herbs and avoid table binders and fillers which are commonly added to store-bought herbal supplements.
Why You Should Fill Your Own Capsules:

100% plant derived capsules

Know exactly what is in your capsule
Save time and money
Customize your supplements to fit your needs
Avoid those bad tasting herbs
Using clear, size 4 capsules gives the ability to show off the color and texture of what you are encapsulating. 
Why Use Vegetarian Pill Capsules?
There are a lot of reasons why you may want to choose vegetarian capsules instead of going with the gelatin variety. Most notably, they are popular because our veg capsules are made from HPMC (hydroxy, propyl, methyl, and cellulose) and purified water, so no animal byproducts are used.
The HPMC is obtained from wood pulp and processed in facilities located in the United States and Europe. The wood pulp used is derived from the softwood tree species including Pine and Spruce. 
Our Vegetarian Pill Capsules Are:
Kosher and Halal Certified
Preservative Free
Gluten Free
Allergen Free
Our vegetarian pill capsules are completely tasteless, odorless and colorless, making them very easy to swallow as long as you pick the correct capsule size.
Empty Vegetarian Capsules Size 4 Come Connected - They Are Very Easy To Pull Apart, Fill, and Snap Together
Easily fill these capsules with:

Powdered herbs
Food supplements
Vitamins
Medicine
Oils
Or your own custom formulas

 
Capsule sizes range from size 4 (which is the smallest), all the way up to size 000 (largest).
The amount of powder that you can fit inside each size 4 empty vegetarian pill capsule varies depending on the density of the powder, which is why you will see a weight range that each capsule can hold.
Dense powders such as Bentonite Clay and Beet Root Powder will fall at the higher end of the range, whereas light powders such as Ginkgo Biloba and Ceylon Cinnamon will fall toward the lower end.
Here is a breakdown of the approximate volume each capsule can hold:
Size 000 – 800-1600 mg
Size 00 – 600-1100 mg
Size 0 – 400-800 mg
Size 1 – 300-600 mg
Size 2 – 200-400 mg
Size 3 – 150-300 mg
Size 4 – 120-240 mg
SHIPPING
FREE SHIPPING is offered on orders $60 or more in the USA and takes 2-5 days depending on the location.
For orders under $60, we offer a Flat Rate option for $5.99. We also have USPS Priority 2-3 day shipping and USPS Priority Express 1-2 day shipping, for an additional fee.
For international orders to Canada, UK, Australia, and countries within the EU, we ship with USPS which takes 5-14 days.
For the rest of the world, it takes approximately 7-21 days with USPS. Depending on the country, it may take longer.
International shipping cost is calculated at checkout, and is based off of the destination and weight of the package.
RETURNS
We have a 60 Day Moneyback Guarantee. At the end of the day, if you're not happy, we aren't happy.
If you are not completely satisfied with your order, you are more than welcome to return the item(s) for a full refund. You can give us a call at 866-445-9040 or send us an email to help@herbaffair.com to start the return process.
Disclaimer: For educational purposes only. This information has not been evaluated by the Food and Drug Administration. This information is not intended to diagnose, treat, cure, or prevent any disease.
this popup is for products having tag "women".
x