CAP-M-QUIK Complete Gelatin Kit
The Cap-M-Quik Gelatin Capsule Filling Kit includes:
The Cap-M-Quik Capsule Filler Machine
The Cap-M-Quik Tamper to pack herbs into the capsules
1000 Empty Gelatin Capsules
Make 50 capsules in just minutes.
With the Cap-M-Quik capsule filling machine it's easy to turn powders into easy to swallow capsules. This is an economical and convenient way to take herbs and avoid binders and fillers that are commonly added to store-bought herbs.
Gelatin capsule sizes range from size 4 (which is the smallest), all the way up to size 000 (largest).
The amount of powder that you can fit inside each gelatin capsule varies depending on the density of the powder, which is why you will see a weight range that each gelatin capsule can hold.
Dense powders such as Bentonite Clay and Beet Root Powder will fall at the higher end of the range, whereas light powders such as Ginkgo Biloba and Ceylon Cinnamon will fall toward the lower end.
Here is a breakdown of the approximate volume each gelatin capsule can hold:
Size 000 – 800-1600 mg
Size 00 – 600-1100 mg
Size 0 – 400-800 mg
Size 1 – 300-600 mg
Size 2 – 200-400 mg
Size 3 – 150-300 mg
Size 4 – 120-240 mg
SHIPPING
FREE SHIPPING is offered on orders $60 or more in the USA and takes 2-5 days depending on the location.
For orders under $60, we offer a Flat Rate option for $5.99. We also have USPS Priority 2-3 day shipping and USPS Priority Express 1-2 day shipping, for an additional fee.
For international orders to Canada, UK, Australia, and countries within the EU, we ship with USPS which takes 5-14 days.
For the rest of the world, it takes approximately 7-21 days with USPS. Depending on the country, it may take longer.
International shipping cost is calculated at checkout, and is based off of the destination and weight of the package.
RETURNS
We have a 60 Day Moneyback Guarantee. At the end of the day, if you're not happy, we aren't happy.
If you are not completely satisfied with your order, you are more than welcome to return the item(s) for a full refund. You can give us a call at 866-445-9040 or send us an email to help@herbaffair.com to start the return process.
Customer Reviews
Write a Review
Ask a Question
Very good product
I felt the kit I bought was easy to use and fairly priced.
08/19/2021
Anonymous

United States
Cap-M-Quick
Best capsule filler! Fill 50 in less time than you can imagine! It's done in about 15 minutes with separating the capsules taking the most time! Different levels eases your production time so I can do 50 in the time it took me to 10 by hand!
I purchased this because it was the only pill machine I could find for size 04. It's not near the quality of "the pill machine" but it gets the job done. Note: there is no "top half loader" device - you have to manually cap each pill after you fill them.
great service and excellent product!
wonderful product. great quality. simple to use.
Thanks to Herb Affair, I now have my replacement Cap M Kwik. As a bonus I have a new bag of 00 capsules to fill.
Transaction and merchant was flawless. Will use in the future.
Order was shipped very quickly, and I'm happy with the products.
Giving you a 4 star as to the Delivery speed. It finally arrived after 3 weeks. Could be slow as it had to pass through Canadian customs first. Wish you had a Canadian site for this reason plus the extra cost on our money as paying in USA money vs Canadian. Ouch! Everything arrived as ordered and pleased with the products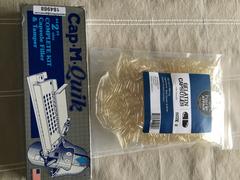 This was delivered quickly and is easy to use and works great! I have used it several times. The only suggestion I have is include a syringe with it. I bought a set that is used to inker flavor into meats but I think if you include one it would be great
Disclaimer: For educational purposes only. This information has not been evaluated by the Food and Drug Administration. This information is not intended to diagnose, treat, cure, or prevent any disease.
this popup is for products having tag "women".
x