Empty Gelatin Capsules "Size 3" (1000 ct)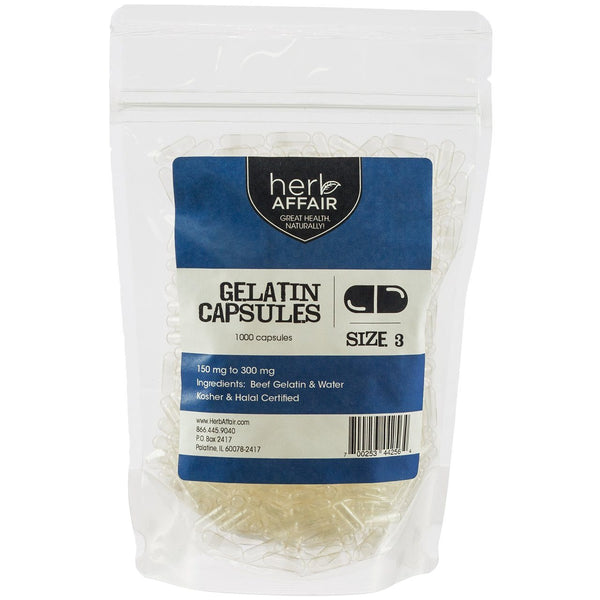 Empty Gelatin Capsules "Size 3" (1000 ct)
"Size 3" holds approximately 150-300 mg
Size 3 gelatin capsules are a small capsule that is very easy to swallow, and a good size for young children or small pets.
They close easily, snap tight and have the lowest incidence of dents of all the other gelatin capsules available on the market today.
All of our empty capsules are BSE Free, Kosher and Halal Certified, Preservative Free, Gluten Free and Allergen Free.
They are manufactured in India, where the cattle are raised under strict regulations to produce high quality gelatin.
Our size 3 gelatin capsules are completely tasteless, odorless and colorless, making them perfect for your custom herbal supplements.
Empty gelatin capsule sizes range from size 4 (which is the smallest), all the way up to size 000 (largest).
The amount of powder that you can fit inside each empty size 3 gelatin capsule varies depending on the density of the powder, which is why you will see a weight range that each capsule can hold.
Dense powders such as Bentonite Clay and Beet Root Powder will fall at the higher end of the range, whereas light powders such as Ginkgo Biloba and Ceylon Cinnamon will fall toward the lower end.
Here is a breakdown of the approximate volume each empty gelatin capsule can hold:
Size 000 – 800-1600 mg
Size 00 – 600-1100 mg
Size 0 – 400-800 mg
Size 1 – 300-600 mg
Size 2 – 200-400 mg
Size 3 – 150-300 mg
Size 4 – 120-240 mg
SHIPPING
FREE SHIPPING is offered on orders $60 or more in the USA and takes 2-5 days depending on the location.
For orders under $60, we offer a Flat Rate option for $5.99. We also have USPS Priority 2-3 day shipping and USPS Priority Express 1-2 day shipping, for an additional fee.
RETURNS
We have a 60 Day Moneyback Guarantee. At the end of the day, if you're not happy, we aren't happy.
If you are not completely satisfied with these size 3 empty gelatin capsules, you are more than welcome to return them for a full refund. You can give us a call at 866-445-9040 or send us an email to help@herbaffair.com to start the return process.
Disclaimer: For educational purposes only. This information has not been evaluated by the Food and Drug Administration. This information is not intended to diagnose, treat, cure, or prevent any disease.
this popup is for products having tag "women".
x