Digital Kitchen Scale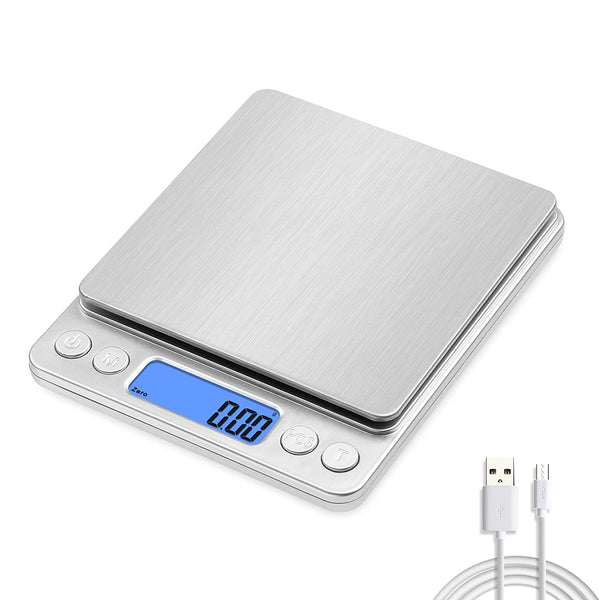 Accurately Weigh Your Herbs with our Digital Kitchen Scale
Are you looking for a reliable digital kitchen scale to accurately weigh your herbs for making supplements? Look no further than our digital kitchen scale! With its precise measurements and user-friendly features, our digital scale is perfect for all your herb-weighing needs.

Key Features and Benefits
Accurate, Easy-to-Use, and Versatile Digital Scale
Our digital kitchen scale comes packed with features that make it easy to use and versatile. Here are some of the key features and benefits:

Precise measurements: Our digital scale provides accurate measurements up to 500 grams, so you can weigh your herbs with confidence.
Tare function: The tare function allows you to weigh multiple ingredients at once by resetting the scale to zero after each measurement, making it easy to get the precise amount you need.
Easy-to-read display: The large, backlit display makes it easy to read the measurements, even in low light conditions.
Compact and portable: The compact and lightweight design makes it easy to store and transport the scale wherever you go.
Rechargeable Battery: Our digital scale comes with a rechargeable battery, making it easy to use, so you do not have to worry about batteries.

Don't Wait - Get Your Accurate Herb Weighing Tool Today!
Are you tired of guessing the weight of your herbs when making supplements? Our digital kitchen scale is the solution you've been waiting for. With its precise measurements and user-friendly features, it will revolutionize your capsule filling experience.

Don't let inaccurate herb weighing affect the quality of your supplements any longer. Order now and take the first step towards achieving your supplement-making goals with confidence. With our digital kitchen scale, you'll never have to guess the weight of your herbs again!

Order one now and start accurately weighing your herbs with ease.

Disclaimer: For educational purposes only. This information has not been evaluated by the Food and Drug Administration. This information is not intended to diagnose, treat, cure, or prevent any disease.
this popup is for products having tag "women".
x