Feeling Stressed And Anxious With Everything That's Going On In The World?
You're Not Alone

Most people know the effects of stress and anxiety all too well. It's a normal part of life, but sometimes it can feel like the stress is winning and you just can't get control of everything that's going on around you.
The constant worry... feelings of overwhelm... just a general glass-half-empty attitude.

When it seems like everything is getting out of your control, that's when you need to stop, slow down, and take some time for yourself.
We know you have a busy life, which is why we created this free checklist "5 Simple Techniques to De-Stress in Less Than 10 Minutes".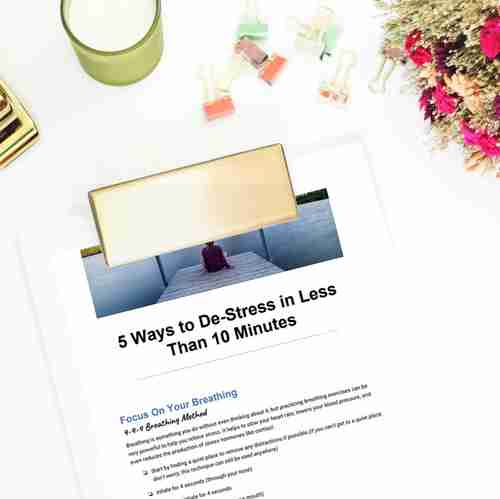 5 Simple Techniques To De-Stress In Less Than 10 Minutes
✓ Find Quick Relief: Learn how to take actionable steps for when your stress and anxiety start to take over.

✓ Use These Anywhere: These simple techniques can be used no matter where stress strikes... at home, at work, in your car... ANYWHERE!
✓ Take Back Control of Your Emotions: When you manage your stress, you'll feel more in control and ready to tackle whatever life throws your way.
Sign up below to get your FREE Checklist!